by Judith Collins
Dear Friends of Outreach. Greetings!
Wishing a blessed October Indian Summer to all you readers!
The first praise I want to share with everybody is for the Lord's mercy granted to Peter Lkayo's medical condition. May it encourage all of us in our hopes and prayers for ours and others' health concerns. Here is the update of 30th September which I sent to his American Doctors:
Today Peter had a medical checkup of his repaired clavicle with his doctors locally and at the same time on Skype with his British doctors. They made him do certain exercises, and they have some kind of gadget or measure which tests the bones and plates, and the doctors say "it is astonishing" the recovery, the healing that he has had. They cannot believe it. We are not so surprised; of course it is the prayers of the Lord's people who are still writing in saying how they pray this for him. The doctors said, with the healing as they see it, and knowing that plates can cause cancer if left in too long, knowing too, Peter's tendency to cancer, they advise all plates, two back and two front, should be removed in November.
They also checked him for the melanoma, and confirmed that your Efudix cream which he had put on the spots which were recurring has worked and cleaned it all up. Think! They are so glad to hear there is one more tube when needed. (It's not available in Kenya.) They told him to apply it at first sight of a spot. So he is clear, and it is a good token from our Lord Jesus Christ the Healer! Thank you for your prayers, and I know you too will praise Him.
Special Appeal Update
Now, our Reader Friends, I need your prayers still for our debt appeal which I sent you in early September. $2,000 was sent in, and our deep thanks to the Lord for that beginning. But IF that is the complete answer from the Lord, it means NOW is the end of the road for Baalah Primary School. The British during the Second World War thought at times they were at the end of the road. John Maynard Keynes wrote afterward: To secure American support without which the atomic bomb could not be built, we (Britain) were stripped of all gold reserves and overseas investment. But we saved ourselves and we saved the world." That is what war is like. Outreach too has its wars of defense which have laid us into debt. But now in this re-appeal, I want to encourage you with something I never told in updates before. Remember the Great Penalty of $40,000.00 with which Baalah Church was levied last November-December 2014? You cannot forget. It was terrible. It was supplied and paid on time. Then through the help of a high elected official, it was reversed as "wrongly levied." It has been repaid to us from Treasury by KSh200,000 each month, over twelve months (which will finish in March 2016), which covers school and church monthly payroll and a part of employers' dues to NSSF (social security) and NHIF (medical insurance) for our employees. Peter's salary is not included here, only Baalah workers. Thank You here to those who try to remember Peter's needs monthly. Then recall to your memory how two Kenyan businesses use their "Corporate Responsibility to Charity" by paying our school firewood and our school classroom supplies. All that is relief to you and to us.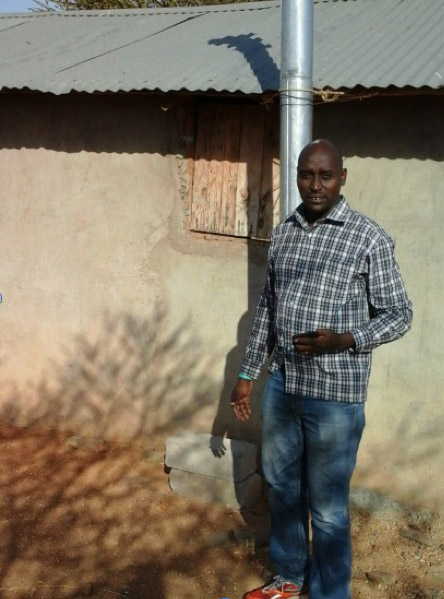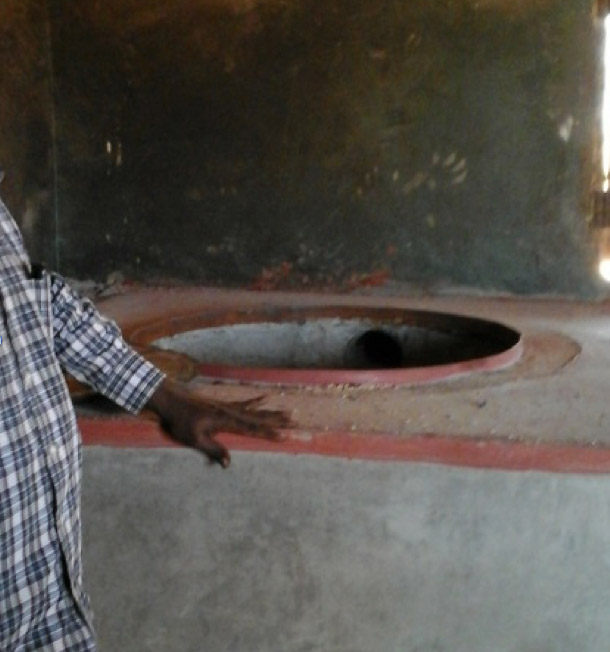 Another praise to the Lord is the charity who are building a new kitchen for the school (right, with Peter), and the first enormous cooker (far right) which uses only two sticks of firewood.
The kitchen is now a place conducive to the cooks' health, with heat and smoke up the exhaust chimney and little ash to dispose of. We have now two enormous cookers each with a stainless steel cooking pot which can be removed by four handles for washing. Each cooker can cook for 500 children at once. A much smaller cooker has been built on the same lines for, say, porridge for malnourished children. We are left to construct the dining hall to attach to the kitchen. May the Lord supply also this. Government, and therefore we too, are very concerned because children eating outdoors in the constant winds of dust and sand over the deserts are exposed to wind-born germs and disease. We are praying for a dining hall! May HE supply for it as He has supplied the return of the Penalty, the firewood, the classroom supplies, and the new modern kitchen. It is the same LORD who cares for His children. And so my request to Thee, O Lord Jesus, Whose Name is that of the God of Jacob (Psalm 20), May Your riches in glory pay the debt of Outreach! Let not Rendille Outreach be the orphan child of the Independent Board!
Now take a little church history story for all of us: We givers to keep this Christian primary school going are like the "Evangelical Poor" of Medieval times. Peter Waldo, a successful business-man in Lyons in the late 1100s was "a medieval man who in his own town, met the "Christ of the Gospels." Taking the command, Go, sell all that you have and come follow Me, he sold his business, endowed his estate on his wife with dowries for his two daughters, and set out with his followers, as laymen, nicknamed The Poor, to preach and spread the Gospel of Jesus, explaining Scripture wherever they could go. He came into contact with the believing mountaineers of the valleys in the Cottian Alps, Northern Italy, who together became known as Waldensians. They loved Scripture above all and refused to submit to Rome's control. Though many of them were illiterate, these Waldensians financed by themselves the first translation of the Bible into French, done by Olivetan (cousin of John Calvin), who got that nickname from all the olive oil he used to light his translation work. Even the illiterates learned the New Testament, often the Psalms, by heart, so said their persecutors of the Inquisition at the time. They went two by two everywhere, sometimes covering their travel by peddling small goods. Those who could read would write out a page or two of Scripture from memory to leave in the homes they passed through. Inquisition records tell how they hunted these Waldensians in Italy, Spain, Flanders, Poland, Bohemia, Hungary, Austria, and Switzerland (must have covered France too, since they knew French so well) through 350 years of persecution. In the 1530s they joined the Reformation through William Farel. By the 1800s they were in both Americas. They had a great enemy, a monk by name Walter Map (Wales), who ceaselessly denounced them in ridicule as "Naked, they follow a naked Christ."
That's a story for us too, for Peter Lkayo, me, the believing Rendille of Baalah: may we, may we together with you our faithful donors, see ourselves as deserving that old epithet cast on the Waldensians: "The Poor," "the Poor in Spirit" (from the Sermon on the Mount), "the Evangelical Poor." I like those names, and with them we salute you! But we are not naked yet, nor do we serve a naked Christ, but rather that Lord Jesus Christ, the Lamb clothed with power, riches, wisdom, strength, honour and glory and blessing! May He in His riches pay our good debt for His children in Baalah church and school, and so save the school for Himself and for His saving Gospel from abandonment to the secularity of government or to the I slam ists. And let us continue to pray our Baalah Pastors and Christian Youth will spread throughout the vast North of Kenya the saving gospel of Jesus as the persecuted Waldensians spread it through much of Europe.
Youth Conference in Baalah Church
In closing here's another good story from that Youth Conference last August in Baalah Church. You know the government must pay attention to the claims of ill-wishers against us. So having been told for long that Bible Presbyterian Churches in America were all of them Klu Klux Klan, and "white supremacists," the government engaged a Baalah youth, a Roman Catholic boy, and paid him to be an observer at our BP Youth conference meetings in August, to take notes to see if indeed we fit that bill! I remember greeting that boy the first day, but at the time I did not know that he was a plant. The boy was himself so impressed with what Bible Presbyterian is (it follows the Bible as the very Word of God and is ruled by elders) he even wanted to believe and be changed in his heart himself, and has not only passed his notes to the government Office who sent him there, but has told Peter all about it and added that he was one of the ones who believed at the end of the meeting! He comes now to church and sings in the choir. Peter asked the Officers later, "Whoever told you such things to condemn the whole Bible Presbyterian church, our sponsors abroad, as White Supremacists?" And they told him it was missionaries who labeled us thus. In fact they named one specific missionary who had said, "The Bible Presbyterians are all white supremacists!" Then Peter said to them, "Now that you have found out the truth, you should re-consider that allegation which is said about me that I push 'Western Interests' …. In fact, that 'White Supremacists' would have been the very allegation which made my CGC (Certificate of Good Conduct) to be withdrawn." The Officers said they would write such a recommendation to that office in Nairobi to tell what they have just learned about our good BPC doctrine and church government…. Then they added, "But for so long we've been told those things against you and BP!" …. So thanks to any of you who have been praying the CGC would be restored to Peter. This could be a definite step toward that restoration. Several statements have now been lodged to the Office of Registrar of Churches in Nairobi to show that the Baalah Bible Presbyterian Church is like any other normal Kenyan church, and not sponsored by white supremacists.
Hallelujah!
Judith
(Good material on Waldensians and their Bible found in the Trinitarian Bible Society Quarterly Record of April/May Jun 2014)