July 2019
Hello Friends,
I know many of you are in summer-mode, looking forward to a trip or two in the lovely American weather… so this quarterly is easy to read and absorb, easy to praise God for, perhaps even easy to pray for…..This note follows Lowa Segelan graduating, Diploma level, from Kenya Wildlife Service College. Perhaps you forget who Lowa was. Way back, maybe about 8 to 10 years ago, Lowa came to Baalah School from the fora, the watering places for their herds. He had started primary school in Korr as a child, abandoned schooling after his circumcision, and feeling that manhood did not need education! But when he learned Christ (from James, as a Bible college student, going to the fora to evangelize the warriors), he came to Baalah School, where they entered him in grade 2/3. At that time, a Rendille from Farakore, 30 kilometers from Baalah, took his ailing son to Korr dispensary. In between treatments they stayed at Baalah, the son loved the school, his father the Baalah church. He insisted on our sending a pastor to Farakore to start a BP church. We had nobody to send … Lowa as a teenager, offered to take notes from Pastor Nacha's sermon to Farakore, to read to the folks there under a tree. It was a long walk, to and fro in one weekend. He carried on until it became too much, and he had to stop . A former missionary to Kenya loved that story and when Lowa came to secondary school studies, he would send fees as he could, for Lowa. Lowa finished secondary 2016, and was given half scholarship at Kenya Wildlife, together with Geygelo another of our believing Baalah pupils who finished studies at the same time. Both are strong believing Christian young men, very active in the church and in advancing the faith of Christ to the Youth. Lowa is about 29 years old and the first child out of Baalah to be given a post in Outreach: he is a member of the Baalah School Board!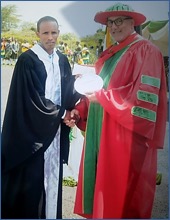 Lowa is being congratulated by the Cabinet Secretary Najib Balala for having made the highest mark in all Kenya in his subject. That is the plate you see being awarded to him by the Mr. Balala. Geygelo came second to him. Wow! Two of our Baalah boys at the top of their field in all Kenya! Lowa, being tops, was granted scholarship of two years to take him through his degree studies.
There will be a national census held in Kenya on August 24th, and fourteen of our Baalah Youth, who have finished at least secondary and perhaps have reached tertiary, can qualify as census takers. We have been praying some will succeed. They have done their written interviews on July13th as they await their orals soon. As of July 15th, they are on the shortlist! Pray for them? The pay is said to be about KS22, 000, tax-free. This would be a big boost to any needing in fees for further studies. And to be given government work, even though temporary, would help them with future applications for government jobs. The Lord's will be done…. I have heard that it is said in Korr "Those Baalah students are good, they have been well taught and they have had no involvement in drugs or hard drink, or….." In fact, Geygelo (mentioned above) as a Church Youth headed a campaign amongst themselves to go through every hut in all the goobs of Baalah to check for drugs or hard drink, with the result that Baalah was declared a Drug-Free area by Government! You might remember it as I told that story a few years ago when it happened. This is the same Geygelo; a serious young man – no foolishness about him.
I am also reminding you here of young Hirlewa Lkayo, Peter and Lucy's son, who needs a lense inserted into his retina to restore sight in that eye. Thank God the retina itself has healed after those three laser operations. A lense-insertion operation is due to be done August 2nd if we can get funds. His share in the family medical insurance cover is all used up.
Pastor Jim Blizzard and a videographer, Luke Fletcher, are now in Baalah (July 12-16) with Peter at Baalah Church and villages. I don't know enough news to tell you of their trip there, but I have heard they did 71 baptisms yesterday. Pastor Jim had to check each one, though they had been taught their catechism well, since the last baptism about three years ago. Many new mamas have been coming to church and wanting to be baptized. If you readers remember pictures of Baalah Church, you can know it overflows now on Lord's Day services. At times they hold extra services, which is hard on the pastor. Another function of yesterday was to officially dedicate the new little pre-school building at Soono Goob, as a Plant of Baalah Church. There Sunday afternoon services will be held for village Elders and old Mamas who cannot walk to central Baalah Church. The more Elders attend there, the happier the pastors will be, because those Elders need the Lord. The Elders have been praying for years for Waakh to send them His First-born Son (and he came, the Lord Jesus Christ). They know that from our telling them. If they don't soon wake up to call upon Him in person, they will have something serious to be responsible for to Waakh (God).
When Peter went up North last Thursday to prepare for Jim and Luke's arrival (food and accommodations and plans with the Church), he took up three of my library shelves in the vehicle. He also took books which are adept and most suited for the youth, for their faith and other subjects I have, such as astronomy pictures, biographies, an atlas, etc. This will be for their library in their clubroom in the Presbyterian Library. Eventually we hope my library will all be transferred there as I am downsizing. And this time, I sent up a set of pigeon-holed shelves of my Teaching Legacy. All my categorized teaching syllabuses are there, and among books, the predominance of great history books of the Reformation. That will be kept in Pastor Nacha's office for security. The pastors hope that this Presbyterian Library will become a resource center of for church leaders from anywhere in the North to come and study. Someday we will get a photocopier to duplicate my syllabuses, because we dare not let any go out, or these valuable resource materials will never be seen again. I have definite hopes of who can and will benefit from them. Not tomorrow, but in due time when it is all developed. Peter has one of his high school classmates from Garbatulla days, who is interested in helping him develop it. Two offices have been set off – one for Pastor Nacha, the other as clubroom for the youth. I have no pictures yet. This library is on the Baalah Church property, not the school. It is to be a project of the church.
May the Lord give you a good summer with safety on the roads or in the air, but ever under His care!
Judith