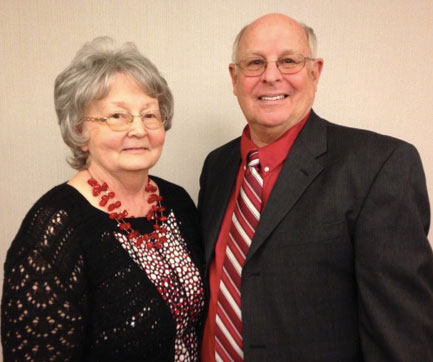 Dear Friends and Prayer Partners:
"It is a good thing to give thanks unto the Lord, and to sing praises unto thy name, O most High: to show forth thy loving kindness in the morning, and thy faithfulness every night." Psalm 92:1, 2
In our home we have always celebrated Thanksgiving and all that America means to us. Along with my country, I (Gary) am thankful for my wife, who was diagnosed with cancer in May and has gone through chemotherapy, surgery, and radiation. Praise the Lord the treatments are finished and that she has done so well. Pat is trying to gain her strength back with a nap or two each day. Pray that the neuropathy will soon leave and she will have feeling in her fingers and toes again. Naturally she looks in the mirror to see if her hair is returning, but not yet. Pat says that the Lord has been so good to her! And we thank you for your cards, books, gifts, email, and encouragement in so many ways. We are thankful also for three very wonderful doctors and the staff for their care.
Speaking of thanks, we appreciate the good work of the national pastors in Kitui District and the 13 churches located there. Thank the Lord also for the elders, deacons, Sunday school teachers, and the congregations that make the churches flourish. The S.O.M.E. team was able to visit eight of the churches this past July, to help and encourage them. If the Lord allows a team to go out in 2016, we would hope they could visit the remaining churches. Please pray for the pastors as they deal with some "growing pains" at this time. They are thankful for the rains that are coming to Ukambani, and that crops are starting to produce. Please pray that the rains will continue and that crops will be plentiful. We do not know how the people survive who depend on their gardens to sustain them.
The S.O.M.E. Team 2016 Update
The Independent Board is planning to send a S.O.M.E. team again in July 2016 to Kenya. There are some people interested in going, but so far there are no team leaders to take the team. The pastors and people in Kenya are anxious to receive the team, as they have for several years. Pray with us that the Lord would lay it on the hearts of a couple, to lead the team to Kenya, if it is His will that they go to tell others of Jesus Christ and His saving grace. We trust the Lord to put this team together, according to His perfect plan.
Gary has done a lot of traveling alone, as Pat has undergone treatment. He went to Pennsylvania to conduct the funeral of Mrs. Ruth Wiggins, a precious friend of many years. Then in October he was down to BJU to represent the mission for the Mission Emphasis Week. From Greenville, he was on to Birmingham, Alabama to attend the funeral of the mother of a dear friend, Del Ray Nichols. On the way home he stopped by Nashville, Tennessee to visit the Proctors and had the joy of seeing Mrs. Kat Proctor along with son Dan and wife DeeAnne. He talked of many memories of our visit to Dr. Tom and Kat in the Holy Land, and the times they came to Kenya to open the Clinics of Care, lay the foundation for the Bethel Bible School, and to be in the churches and even speak in public schools. Within a few days after his visit, Kat was called Home to be with the Lord.
At Home in West Virginia
Locally here in WV, it has been busy helping in Putney Church, and for their upcoming Christmas musical. Then there is our ministry with the monthly Jolly Seniors meals, serving up to 180 people. Also we can't forget the outreach with the Histimers, who recently had a barbeque dinner and musical tribute to the Veterans. Coming up will be a visit to another church for an organ concert, and later going to a "Walk Through Bethlehem," followed by refreshments in our home. There is always something to do for the Lord and to encourage others.
We are thankful for YOU and for the faithful prayers, support, and encouragement! May the Lord richly bless each one of you. May you have a very Merry Christmas and a Blessed and Happy New Year.
Yours in His service,
Gary and Pat Johnson