Update: Kims in Brazil
April 14, 2016
Ministering for the Lord in Brazil
Greetings in the precious Name of our Lord Jesus Christ. May the Lord bless you for all your prayers and gifts while we are working here in Brazil. The past month has been really busy with travel. But by the grace of God and through the strengthening of your prayers and concern, we were able to carry on serving Him and the Brazilian brethren. How time passes quickly—we are already in the month of March for the year of 2016. So, we are pleased to write you of our recent works in the past few months.
Inauguration of the Rondonia Seminary Building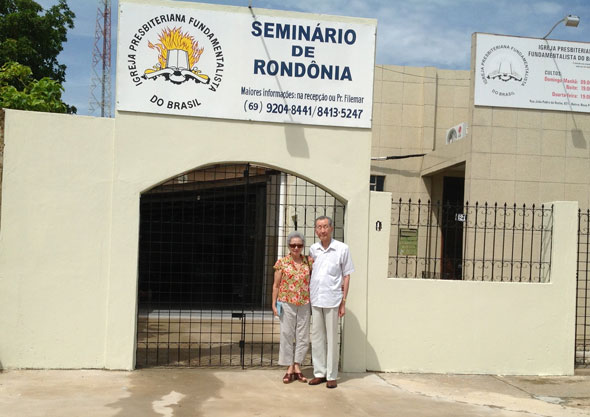 The Rondonia Seminary building in Porto Velho city, Rondonia state North Brazil was inaugurated on January 9. This region formerly belonged to the Amazon state but now is divided into the Rondonia and Amazon states. This building was funded by a Korean deaconess who is a member of the Yehneung Korean Presbyterian Church in Seoul, (Pastor Kun Hoi Cho), deacon Joon Hyung Park's family of the Bethesda Korean Presbyterian Church in São Paulo, and Rev. Woo Sun Kim's family. Pastor Kim preached and many pastors and members of the Rondonia Presbytery of the Fundamental Presbyterian Church of Brazil were presented and took part in the inauguration worship service. After the worship service was finished, there was a "festa" (party) in the seminary building. There were gathered more than 150 persons. We especially thank God that we could finish the construction without any difficulties or crises by His grace.
New Believers Baptized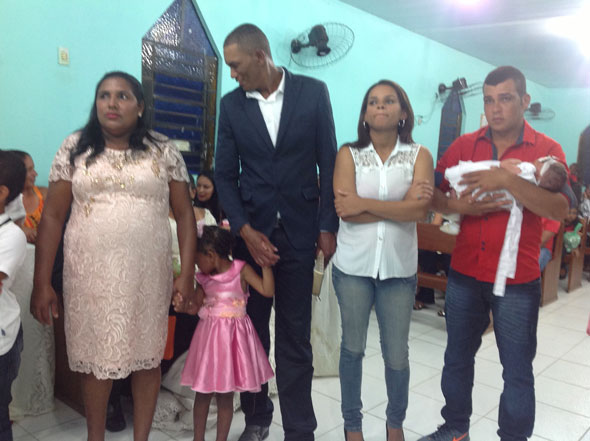 Thirteen new members in the Castainho and Cambirimba Fundamental Presbyterian Churches of Brazil were baptized on January 9. All those baptized were evangelized because of the children in the Bethesda Nursery. We are very thankful to God that 110 people were baptized since 2007.
Three New Couples Married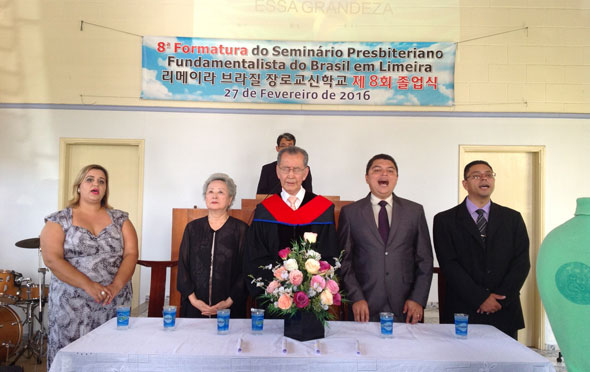 Rev. Kim presided over a wedding ceremony for the three new couples who were baptized in the same day. They have been living for a long time as husband and wife without a wedding ceremony. They are parents of children in the Bethesda Nursery and were evangelized through their children attending the Nursery. These couples could not have a wedding ceremony earlier, because they didn't have money to pay a registration fee in the notary public office.
Limeira Seminary Graduation
The Eighth Graduation Ceremony of the Limeira Fundamental Presbyterian Seminary was held on February 27, Saturday at 4:00 P.M. This time four graduates (Eliseu Costa Rodrigues, Fernando Luiz Gregorio, Jose Camilo dos Santos, and Narciso Honorato do Nascimento) received a degree of Bachelor of Theology. The President of the Limeira Seminary, Rev. Woo Sun Kim, preached with many Brazilian pastors taking part in the service. A choir of the Bethesda Korean Presbyterian Church in São Paulo praised the Lord in song. Rev. Kim's family provided the wrist watches as gifts to the graduates as a remembrance of the occasion.
Thank you all once again for your prayers.
In Christ,
Rev. and Mrs. Woo Sun and Sook Ja Kim