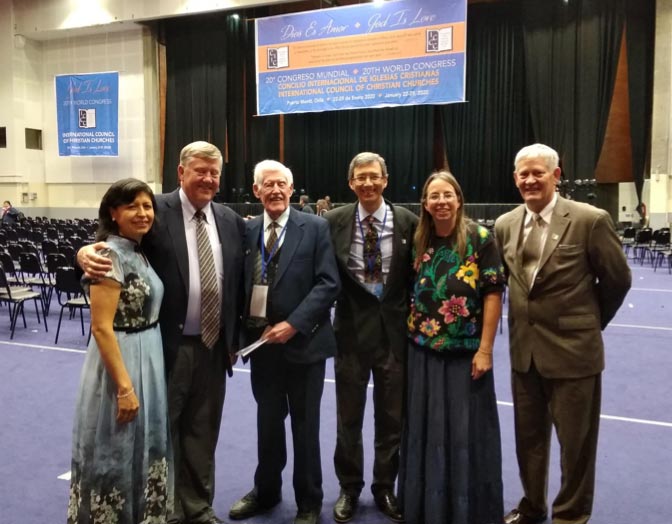 Dear Praying Friends and Family,
There is a lad here, which hath five barley loaves, and two small fishes: but what are they among so many?

Jn 6:9
Do you ever feel that the church is small? That you have so little in comparison with the great need you see? What are we among so many people in the world? The Lord Jesus Christ is the Great Mathematician and He knows how to multiply! He delights in using the small and humble of this world to magnify His power to increase His kingdom. May our response be the same as that of His disciples in John 6:14, "This is of a truth that prophet that should come into the world."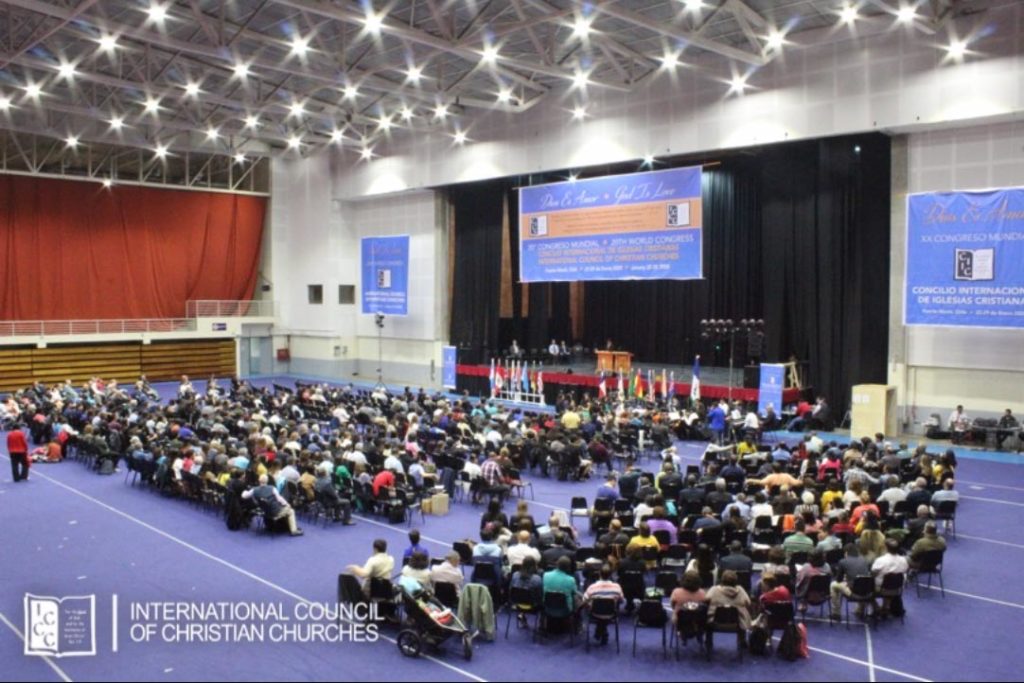 We thank the Lord for the International Council of Christian Churches that met in Puerto Montt, Chile (the photo on the left is from the ICCC Facebook page). It was very encouraging to see people from literally all over the world praising the Lord God Almighty together. Pastors Brad Gsell and Steven Ricker did an excellent job of bringing this all together and coordinating everything in a country where changing things at the last minute is normal. For us it was a great joy to see dear friends from the U.S. such as the Gsells, Pastor Dave DiCanio, Pastor and Mrs. Lewis, Pastor and Mrs. Ron Vandermey, Pastor Christian Spencer, Bro. Keith McCoy, Mrs. Dekker, Bro. Alex Woehr, the Moyers, to meet Pastor Dan Greenfield from the ACCC and Bro. Andy from Florida.
We also saw and enjoyed sweet fellowship with so many from all over Chile, such as Daniel and Eli and their children, Pastor Carreño and many from his family (including a great grandchild!), Pastor Juan Farías, Pastor Leory, many friends from Concepción and Chiguayante that we ministered to and with years ago: Ana Maria and her family, Meri and her family, Ezequiel, Anita and Marjorie, Elia and Belén, Samuel and Paulina, Edison and Alejandra, Víctor, Luisa and her family, and many more including those from Chillán and Coihueco.
Of course, having such a mixture of people provided many opportunities for translation work. Paul was called on many times to help with translation. Isaiah and Josiah also helped in the translation booth and Geneva translated for Alex Woehr when he spoke to the young people. In that case, Alex gave his message in Spanish and Geneva translated into English. Even our little Katie had a chance to translate a few times for people trying to communicate with English speakers. Written and oral translations are quite a challenge!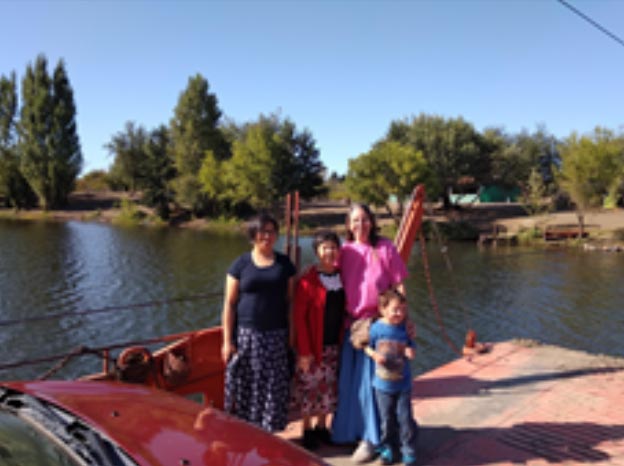 We were encouraged by spending time (it was too short!) with missionary friends, the Bjurs, the Jaras, the Rickers, the Olsons, the Johnsons, and Dave DiCanio. Pastors with their families from Colombia, Peru and Bolivia were there as well, praising the Lord with us. Jack and Angie Sin attended and it was wonderful to get reacquainted with them and hear of their work in Singapore, India, and other places. It was a blessing to visit with Pastor and Mrs. Bernard Kaiser and the Jeisings from Germany, the Queks from Singapore, several African pastors, and several pastors from Brazil. It was a great joy to finally meet Purdee Yeo and her Mom, Peng Ha, from Australia, and it did our hearts good to spend some time with them after the conference as they came to share several days with us here in our home in Santa Clara. We loved hearing the messages, singing praises with an excellent orchestra (in which Sarah and Anna also participated), hearing the Chilean choir, and hearing all about the Lord´s work throughout the world!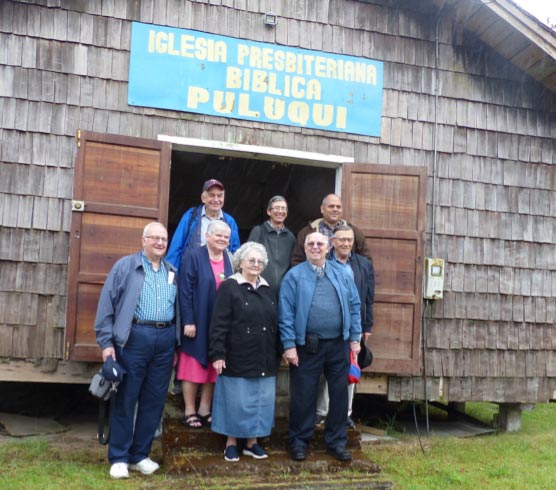 One highlight that we should mention was a trip to the island of Puluqui where 34 years earlier Paul, Dave DiCanio, Jim Bjur, Gary and Pat Johnson, and Brad and Sheila Gsell had gone to help build a church building along with a group of Chileans. We had a service in the building and were blessed by the remembrances shared. The next week two of our children, Geneva and Josiah, enjoyed the Christian camp program at the same property! They had numerous Bible studies, memorized Scripture, and engaged in many competitions with around 150 young people.
Please pray as we now consider the Lord's will with respect to furlough in the future. Until today, the 18th of March, we were really hanging on to our hopes to see you all soon, but through the expanding corona virus and government response crisis (both in the U.S. and in Chile) the Lord has modified our plans and our trip has been postponed. As we pray for you all, please pray for our health and safety and the Lord's guidance for the timing of a future visit in the U.S. and His provision. Please pray that Air Canada will provide a useful credit for our entire fare with sufficient flexibility (of which there seems to be some hope) to accommodate the plans the Lord would have us to make. Please pray that, in the Lord's timing, whether within this year or the next, we may be able to travel and that we will be an encouragement and a blessing to many people.
Here in Chile, Chillán, the largest city nearby, has been completely closed and Bulnes, where Marjorie works at the hospital, has also had some cases of the virus, and thirteen workers at the hospital in Puerto Montt have been quarantined, where Daniel Matamala works. A nationwide overnight curfew has also been installed. Geneva and Sarah left here earlier in March and are with their grandfather in Missouri. Please pray also for Julio and Johanna who were planning to carry on the work in Santa Clara during our furlough. Julio is here with us and Johanna remains in Santiago with her parents. Please keep us all in prayer. Thank you!
A few more praises and prayer requests:
Praise the Lord, Rosita's feet are much better; she soaked them in the ocean water for hours on a trip this past Saturday. They had been hurting a good deal lately and swelling. Thank you for praying for her feet.
Praise the Lord for a place to continue our Lord's Day Bible classes at Las Lomas: the owner of the house we were renting recently found it urgently necessary to ask for its return in order to provide a house for his mother. The Lord opened the doors and quickly provided; we did not miss a single week!
Praise the Lord Rocio and José, Rebeca, Josefa and Samuel (still in the womb) are finally semi-installed in Santa Clara. Please pray for them as they settle in, for the upcoming birth of their third child and as they prepare to build their own home.
Please pray for Joaquín and Isaac, Francisco and Marjorie, Víctor and his family (Daniel & Karen, Frank & Denise), for our neighbors and the Lord's Day children.
Please pray for Chile as there are many protests and demonstrations going on as they gear up for a national vote on what to do with respect to their national constitution.
Thank you for your prayers and support!
Your servants in Chile,

Paul and Cheryl Durand and family