Dear Friends, Prayer Partners, and Donors,
Even during the pandemic, we can say that God has truly been good to us. We have traveled, stayed in homes as guests, and even had guests in our home! And yes we do wear masks when mandated, and social distance, but we are not living in fear.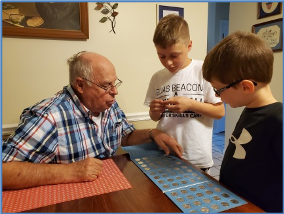 To begin with, Gary is continuing the Children's Bible Club on Mondays. Two new children from Brazil have joined the club, a nine-year-old and his sister of five. It is amazing to see how quickly they are learning as they are enjoying their time in Bible study, Bible videos, and learning about the Lord. They have even enjoyed filling the State Quarters books, with help even from friends in Indiana.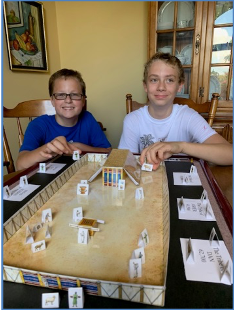 Every Tuesday, the Putney Memorial Church continues its Bible studies, currently looking at the Tabernacle in the Old Testament. We do the lesson, but we also have two young fellows attending, Gabriel and Dalton, who are learning so much and have been an encouragement to everyone. They have helped in putting together a paper replica of the Tabernacle. It's a great study, and everyone is learning so much, especially how it applies to us today. Also, the Putney Church, now 105 years-old, has been receiving some much needed repairs needed because of her age. Right now Gary and others have been painting the awnings on the front of the church. This is important for the appearance of God's house to the community.
We continue to hear from some of the young people in Chile, who are praying and planning for a possible SOME team to Kenya next summer. Continue with us in prayer that God will open and close all the appropriate doors for these Chileans, and also pray that we will be able to join them and return to Kenya for our 4th "last time". For us, returning to Kenya will depend on our health and strength; but God is able.
As you know, this pandemic has affected the entire world, and sadly the educational system. Along with all the schools in Kenya, the Bethel Bible and Technical School remains closed. Now there is a possibility that all schools may be able to open in January 2021. Yet until that happens, we have been discussing, with the pastors we know, the possibility of offering some classes at the churches, so the children do not get so far behind in their studies. Pray that the pastors will be willing and able to help their own children and others in this project.
We have been blessed to think about and pray for those who have served on SOME teams since the early 80s. Many of them are now serving on the mission field; i.e. Chile, Nigeria, Liberia, Ethiopia, Australia, and in the USA. Well, just last week one of those families left for Togo, West Africa, and another left to serve in Lebanon. God is so good to allow us to know and be a part of ministries around the world!
As we close, we wish to thank you for your prayers for us and the many opportunities of outreach that God has given us. Thank you also for the support and special gifts that have been contributed. We cannot thank you enough for standing with us in the ministry. Our prayers are with each of you, that you will be safe and healthy even through these difficult times. God is still in control, meeting the needs, and blessing in His work.
Let us hold fast the profession of our faith without wavering; (for he is faithful that promised)
Hebrews 10:23
Yours in His service,

Gary and Pat Johnson