"…The Word of God is not bound." 1 Timothy 2:9
"He sendeth forth his commandment upon earth: his word runneth very swiftly." Psalm 147:15
Dear Friends and Brethren in Christ,
This time of pandemic has made both life and ministry unusual, to say the least! We have marveled to see the Lord working in hearts through His Word even during this time when "normal" opportunities for ministry have been limited, because of being physically limited and separated from brethren. Yet, God's Word is not bound!
Here in Arica we are starting our fourth month of being under a fairly strict quarantine. We are only allowed to go out to stores and banks twice a week and only for the space of three hours. Permission must be obtained online from the police and there are police/military checks on the roads and in town. Church gatherings are not permitted and international mail is still not coming either. The nearby border to Peru has been closed since March. We do not know when these restrictions will be lifted. Cases of Covid-19 are still very common. One lady who attends our church, Katia, has now had it twice! Some of our people have had loved ones die from it.
Yet in spite of the restrictions, we have kept busy and are amazed at the opportunities that the Lord has given to sow His Word through means of the internet. In August we had a virtual camp, since we were not able to have our youth winter camp in July. We had never tried something like that and were not sure it would work. The theme was "Vessels Meet for the Master's Use" from II Timothy 2:19-21. Jim preached the first message on salvation; Pastor Juan Hoyos (Iquitos, Peru) spoke on separation; Pastor Angelo Salvatierra (Antofogasta) preached on sanctification; and Pastor Juan Luis Guerra (Puerto Monte) spoke on service. There were opportunities on the "Zoom Camp" for games, special music, greetings from represented churches and small group discussion sessions. It worked! We long to return to a normal camp setting, but the virtual camp was a great blessing. Over 80 young people participated from the North of Chile, Bolivia, Peru, some Venezuelans, and other individuals from other parts of Chile, as well as some who watched live on Facebook. Camp was from 4 pm to 9:15 pm with a short break for supper between sessions. We have to admit, it was the least expensive camp we've ever held!
Also, in August, Melody was asked to speak for the ladies at a virtual Congress of AFFAL, which is the Latin American Alliance of Fundamentalist women in Chile. Over 150 ladies were connected on Zoom with others watching on Facebook Live. What a joy to share God's Word with so many ladies! She has also been asked to speak in several Ladies' Bible studies in other churches in Chile and Peru. Jim recently spoke in Iquitos, by means of Zoom, about the dangers of Mormonism. Here in Arica, we continue with our Sunday Services on Facebook Live and Jackson continues his children's classes (with Melody, of course!). Seminary classes continue by Zoom as well. Now a Christian brother from down South will be putting all of the messages and lessons on a YouTube channel. It's so exciting to see God's Word going out as never before.
Of course, we are concerned, and ask prayer for our people as we have not been able to meet together in person. We realized that last Sunday was our 26th week of transmitting the services online. That's half a year! How we pray that restrictions will be lifted soon.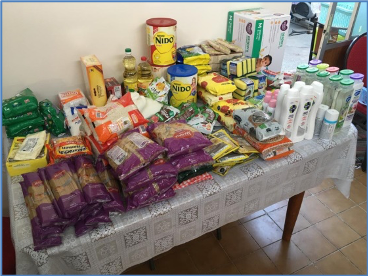 The Lord has continued to give us opportunities to minister to Venezuelan refugees both spiritually and materially, through the giving of God's people both in Chile and the US. When the quarantine started, the ability of the Venezuelans to make money was extremely reduced. We started taking bags of food to three families (ones that had been coming to our church since last August). Now the Lord has expanded our giving to seven families. There are also three Chilean church families that have been out of work that we have helped when needed as well. We are so thankful for the Lord's provision to show His love in this way. Venezuelans continue to enter into Chile through Arica, in spite of the closed borders. We just met a lady that arrived with her 11 year-old daughter just about two weeks ago. It breaks our hearts to drive through town and see so many families with babies and small children asking for help. While we can't help everyone, we try to do what we can, giving a little money and always a Gospel tract. Of course, we know their greatest need is spiritual and we pray that God will work in their hearts. Several that we have met are now listening to our online services. Please pray for their salvation.
Saimerick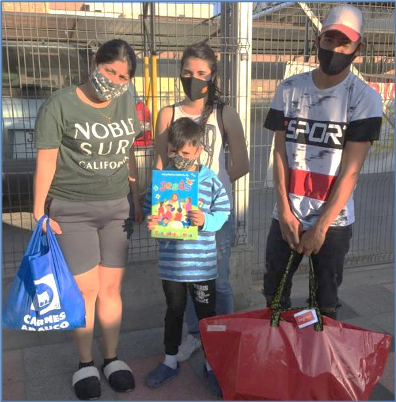 Jim saw Saimerick with her husband, Jonathan, on a street corner when he stopped at the light. As most Venezuelans do, they were selling candy. Jim gave her a little money with a tract. The Lord put it on Jim's heart to go back two days later. He gave her another tract and about $12. She started crying! A few days later he took Melody to meet her and she told her how that day (when Jim gave her the money) she had been at the end of her rope, praying and asking God to send her an angel – and God sent Jim! (First time anyone has called him an angel) With that $12 they bought a box of garlic and started selling it, and with it made enough to pay for their rent that week. Melody gave Saimerick her phone number and they began to communicate. One night Saimerick asked Melody if she could talk to her about a problem she was experiencing. We had been praying for a chance to share the Gospel with her. So, the next day on a bench in town, Saimerick listened to the Gospel and then prayed a beautiful prayer asking God to save her. A few days later we took her a Bible, and she was so thankful, she just wept! Jonathan seems close to receiving Christ as well! Please pray for this couple.
Enrique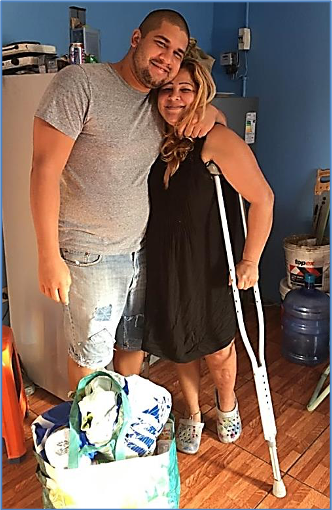 We met Enrique and his wife, Yosmar, last August, just a few weeks before we went to the US on furlough. Yosmar is handicapped and on crutches from a car accident five years ago in Venezuela. The first time they came to church, Yosmar had just gotten out of the hospital because Enrique had hit her and broken her eyebrow bone! While we were in the States, Yosmar continued to come to church when someone would pick her up along with other Venezuelans. When we came back in January, both Yosmar and Enrique came. In February, during VBS, Melody did an evangelistic Bible Study with Yosmar (The Exchange, by Jeff Musgrave) and Yosmar received Christ as Saviour. We continued to pray for Enrique. In June, he was arrested and spent two months in jail for failure to appear at a hearing. It was a very difficult time for both Enrique and Yosmar, but it was just what the Lord knew Enrique needed to see his need for Christ. While in jail, he read his wife's Bible and the tracts we had given him. A few days after he got out of jail he called and said he was ready to "pray the prayer of faith". After going over the Gospel with him once again, Enrique was wonderfully saved! Everyone had tears in their eyes as he finished his "prayer of faith." His wife testifies of the great change in him!
Ana
We have been praying for our neighbor, Ana, and her family since they moved next door about four years ago. Melody has had several opportunities to be a friend to Ana. She came to our Ladies' Evangelistic Christmas Tea a couple of years ago and her 11 year-old daughter often went to Sunday School with us until we went to the States last year. About two weeks ago Ana's father was very ill and Ana was really having a hard time. Melody went over to talk with her and she said she wanted to learn to pray so she could pray for her father. She said that six months ago she was desperate, as her husband would drink and then treat her badly, and she told God that if He would do something she would promise to go to church. A short time later her husband told her that he realized drinking was hurting him and he wasn't going to drink anymore! Melody asked if she would like to do a Bible study with her, and she agreed. Three days later Ana texted Melody, "I have a question, how do you receive Christ?" Ana's aunt told her that in order for her to pray for her father she needed to receive Christ, and that she should ask the pastor's wife (Melody) how to do it! How thrilling to see how God has been working in her heart all along. Melody went over and showed her how she could receive Christ as her personal Saviour. Two days later her father died, but Ana's aunt had also talked to him and he had received Christ, too. The peace Ana had in her heart after her father died was a real testimony to the work that God had done in her heart.
We are so thankful for how God has been working, especially in the last few months. The church doors may still be closed, but God's Word is certainly not bound or limited. What a wonderful God we serve. Please continue to pray for us as we seek to serve the Lord here in Arica; for strength, guidance and wisdom. Please pray for growth in the lives of the believers, especially the new ones. Please pray for the Venezuelan refugees, for their physical and, especially, their spiritual needs. Please pray that soon we could again meet in our church building. And pray that God's Word would continue to "run swiftly" and have an impact in people's lives here in Chile.
Thank you so much for your prayers and support! We appreciate you all so much!
In His service,

Jim, Melody and Debbie