Dear prayer partners in Christ,
This time of the year our Guatemala weather is very volatile. Small dark clouds next to large white clouds can bring on scattered showers without warning, while the rough sound of a cold wind wakes up the day. The weather changes, time passes by, and it is now already November 2020. By the time Covid-19 began, a temporary phenomenon that we thought would have already ended by now, it's still a major struggle for all of us. It's a life that begins the day with prayer, asking for the Lord's protection, and ending with gratitude for that protection. All this makes us realize that prayer is the only way to live bravely in this difficult time. The Lord's Word reminds us to pray without ceasing, becoming a reality that we have no choice but to live that way, even if we don't make an effort to do so. We pray without ceasing while remembering God's sincere promise regarding our prayers.
Ask, and it shall be given you; seek and ye shall find; knock, and it shall be opened unto you: For everyone that asketh receiveth; and to him that seeketh findeth; and to him that knocketh it shall be opened. Or what man is there of you, whom if his son ask bread, will he give him a stone? Or if he ask a fish, will he give him a serpent? If ye then, being evil, know how to give good gifts unto your children, how much more shall your Father which is in heaven give good things to them that ask him. (Mt. 7:7-11)
Zion Middle School
Since the coronavirus outbreak in March 2020, online classes continue to be held. However, many rural areas like Patzicia, online classes are not possible due to various circumstances. So it is a common practice that homework is received and confirmed through a mobile phone app, and students without mobile phones are checked on through a home visit by their teachers. Surely this method of instruction creates a number of problems, especially in the area of the students' level of academic achievement. If online classes continue next year, it is expected that many students will take a leave-of-absence. Even worse, there are many negative reactions to the unchanged tuition payments, even though there are no physical classes. Pleases pray that God will give us wisdom to have the right solutions for these situations.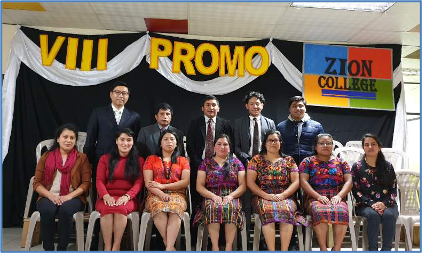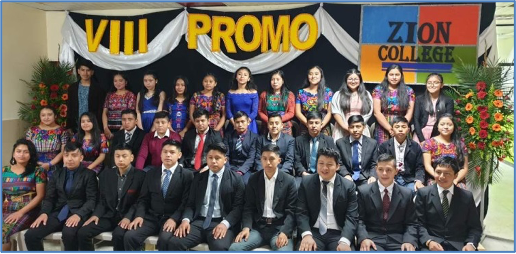 Zion's 8th Graduation Ceremony was held on November 5. Due to the coronavirus, only the graduates and their parents gathered for pictures. We had 25 students prepare to graduate. Normally, if they did not pay their tuition, they could not receive their diploma. Also, if their grade was less than 60 points, graduating or even advancing would not be possible. Yet this year, due to a special government policy, all students can graduate and move to a next grade regardless their grade score. Advancement and graduation are now approved only by paying tuition. We can only imagine the serious problems that will happen because of this policy – for students and teachers – in dealing with the right academic level. Again, prayer is needed for this matter.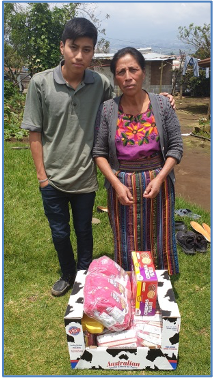 Caleb has visited several students' homes, especially those in difficult situations. When we considered that there were some families who were reluctant at this time to meet face-to-face, Caleb just delivered food and daily necessities (pictured left), with maximum safety. It was also hard to hear of their struggles, being isolated and so missing spiritual fellowship as they could not worship with others at church. Please remember and pray for God's comfort for them.
We are also praying how the schools and churches should now deal with a possible long-term future living with the coronavirus. We are researching to develop more effective classes, such as using video Bible study materials. Currently, we are in consultation with the local office of education regarding Bible study classes, and even English and Korean classes, as a second language. This, too, we ask for your prayers, that we may receive a positive response to regarding official video classes.
Evangelism
Danilson, a graduate of Zion Middle School, moved to a new home; Caleb visited him. While living with his parents and other brothers, he and his wife went through some serious struggles. Recently, however, he moved out and his wife was able to get a job. They are very grateful for all the Lord has done. Danilson's seminary classes are video classes and he is doing it faithfully. Caleb gave him a systematic theology book along with some necessary household items and food. Guatemala seems to be very expensive when it comes to buying books. Considering their economic situation, it is even harder for seminary students who need these books and find it almost impossible to afford them.
We thank the churches for their support in helping students in Zion Middle School and Danilson. Your continued care and prayer is greatly appreciated.
San Lorenzo Elementary School
Naturally, due to the situation brought on by the coronavirus, the class that was intended to be held at San Lorenzo Elementary School in the afternoon had to be canceled, even before starting. If the school physically opens in 2021, we are praying to have a Bible class in the morning hours, if possible. It needs the cooperation of the school and the parents. Please pray that God will make it happen.
Family News
Our son Joshua, who is studying in Belgium, is doing well under the protection of the Lord. Again, another lockdown and curfew have been imposed for November, so it seems that he cannot come here to see us this year. We ask for your prayers for God's protection for Joshua and His blessings on his studies and internship next year. We are very grateful to God for His protection and thank Him for deepening our understanding of life in the closed world, like it is now, and making stronger the root of our faith.
Dear brethren in Christ, thank you for your prayers and support, especially when you are also going through similar circumstances. We earnestly pray that the blessings of experiencing God's protection and preservation will overflow in you and your family while living bravely in the rest of 2020.
His endless love,

kangil95@yahoo.com