"For all things are for your sakes, that the abundant grace might through the thanksgiving of many redound to the glory of God." II Corinthians 4:15
"Thanks be unto God for his unspeakable gift." II Corinthians 9:15
As we come close to the end of a very unusual year and celebrate Thanksgiving and Christmas, we are thankful for God's abundant grace and His "unspeakable gift." The above verses from Jim's favorite book of the Bible remind us that God permits trials and even pandemics as opportunities for His grace, for thanksgiving, and for His glory. God's unspeakable gift, eternal life and forgiveness through Jesus Christ, gives us reason to always be thankful.
Recent Zoom meetings have also been occasions of God's grace and reasons for thanksgiving. On October 31 we celebrated both Reformation Day and the 27th Anniversary of our church here in Arica. We had many participate. Since it was through Zoom we had the blessing of brethren participating from other parts of the world, such as the USA, China, and Australia. Pastor Maximo Mardones from the South of Chile gave a message he recorded on video. The theme of the Anniversary was, "Only by His Grace." Others who were a part of our church in years past, but are now serving the Lord in other places, were also able to contribute. It was such a blessing and encouragement to see them again, which made up for the disadvantage of not being able to see one another in person.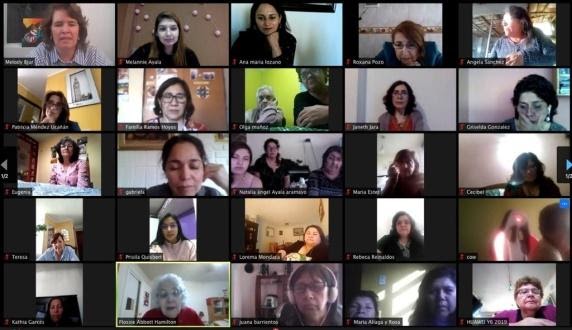 Also, a recent Ladies' Conference by Zoom provided some otherwise impossible-to-have blessings. Melody's Aunt from Mexico, Flossie Abbott, gave a wonderful message and testimony on the theme of Psalm 34:19. Her sweet testimony of God's grace in times of great trial was a blessing to all of the ladies. We still miss the hugs though!
The situation here during this pandemic is finally beginning to improve. After five months our quarantine has been lifted. The number of people that can gather is up to 25, but we have still not been given the "go ahead" by the Presbytery for our churches to hold services as there are still so many restrictions. So for now, we are continuing with Facebook services. There are the blessings of many additional people listening to the services who normally would not attend, and yet there are some who attended before that are not participating in the online services. So, we wait and pray and trust. We are thankful that Melody and Jackson's children's class has been a blessing to many since the start of the pandemic until now.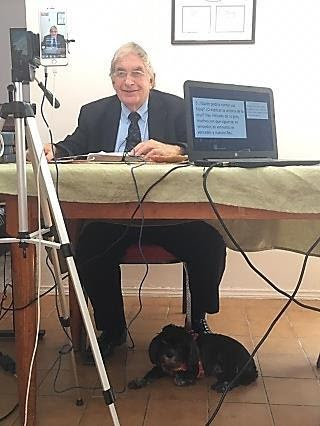 Venezuelans continue crossing the closed borders from Peru and Bolivia into Chile, even during the pandemic. We have been amazed and so thankful for the Lord's provision during the pandemic and time of quarantine through offerings from ones here and in the States to consistently help seven Venezuelan families with food and other needs. Now that we are no longer in quarantine Melody started an evangelistic Bible Study with the ladies at the house where four of the Venezuelan families live, as well as a lady from Columbia and one from Cuba. Yamileth, from Cuba, heard the gospel for the first time last week and God opened her heart to receive Christ! What a thrill! Also, in our last prayer letter we mentioned Saimerick, who had received Christ in July and we asked you to pray for her husband, Jonathan. Well, after the quarantine was lifted, we were finally able to sit down together and share the gospel with Jonathan, her husband, and he received Christ as Saviour!
We also mentioned Enrique and Yosmar in our last letter. It is a thrill to see their thirst for God's Word! They are coming to the house once a week for us to study the Bible with them. Please continue to pray for these dear ones. The Mormons have been trying to confuse some of them with their false doctrines. Satan doesn't miss a trick.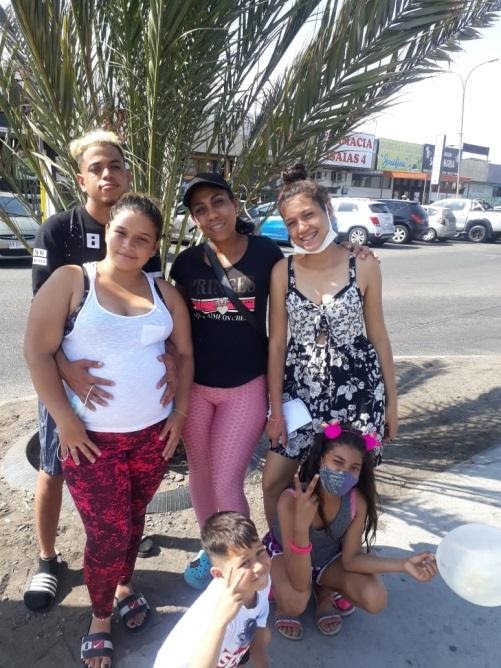 The trials that these Venezuelan refugees have suffered are incredible. We'd appreciate your prayers for Ambar and her 11-year-old daughter, Krissbely. We met them at an intersection where they were selling disposable masks. Krissbely enjoys listening to Melody's children's class. The Lord has placed them on our heart in a special way. Ambar has been reading the Bible Melody gave her and asking questions. Recently they made a sudden trip to Santa Cruz, Bolivia, to rescue Krissbely's 16-year-old sister from a dangerous situation. In God's mercy they made it back to Arica after several weeks of hardship. We don't recommend or condone these illegal border crossings, but we receive them for Christ's sake. Desirret, the 16-year-old is three months pregnant. Ambar's son, who is 19, also has a girlfriend who is five months pregnant and has a four-year-old boy, Krissfer. Please pray for God's provision for these ones and especially that they will come to a saving knowledge of Christ.
On December 3 we will be finishing up our internet seminary classes for this year. Melody has been teaching the third semester on Methods of Teaching and Jim on Bible Doctrines. We are thankful for the dedicated students from the Iquique church taking these classes, as well as a third class taught by Pastor Jonathan Jara.
Last year at this time we were in the U.S. finishing up our furlough travels. We marvel at the Lord's grace in the unanticipated changes 2020 brought. We see the Lord's providence in permitting Jeremy and Daniella's wedding just "under the wire" and our own return back to Chile hours before the borders closed, as well. Now we also see why plans for a medical mission team kept running into closed doors. The Lord knew better than we did! And we know the Lord will continue to care for us and lead us as we prepare to enter 2021. Thanks so much for your continued giving and prayers for us, our family and the Lord's work here in Arica. We are thankful for each of you and wish you a blessed Christmas and wonderful New Year!
With love in Christ, your servants for Christ's sake,

Jim, Melody, and Debbie Bjur