By Keith Coleman, Executive Director, IBPFM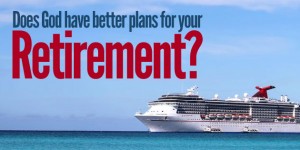 In the first weekend of June, Mellie and I attended my Shelton College reunion. Over 200 graduates from the 1950s onward gave heartwarming testimony to the way God used classmates and faculty members to shape the course of their lives' work. It was an amazing evening of praise and encouragement.
Although Shelton no longer exists, God's testimony is alive in generations of graduates, many still actively engaged in Christian ministry. Around tables of wonderful food and good stories, there were no discussions about reaching the "retirement age" or counting down to the precise moment when "the golden years" begin. Instead, there was a sense in that room that God's plan for their lives was continuing to unfold even into old age. They were still in the game!
Pastor John Piper writes in Rethinking Retirement: Finishing Life to the Glory of Christ:
"Finishing life to the glory of Christ means resolutely resisting the typical American dream of retirement. It means being so satisfied with all that God promises to be for us in Christ that we are set free from the cravings that create so much emptiness and uselessness in retirement. Instead, knowing that we have an infinitely satisfying and everlasting inheritance in God just over the horizon of life makes us zealous in our few remaining years here to spend ourselves in the sacrifices of love, not the accumulation of comforts."
Is he right? Is there a difference between living the American Dream to the fullest and losing your life completely in the soul-satisfying rescue mission of sharing Jesus with the unreached peoples of the world? I think he's on to something here.
In April I celebrated my sixty-third birthday. By the world's standard I should be months or even days away from cashing in on the rewards of fruitful labors. I can begin that stamp collection again without distraction or feed the birds without any thought to my responsibility or duty to grow older to His glory. In so many ways the American Dream has replaced God's vision for retirement, hasn't it?
What do you think it would be like if even a miniscule percentage of retirees took to the fields "white already to harvest?" Not shelving or boxing up God-given talents and gifts for our grandchildren to sort through, but using them as the Master intended them to be used-teaching, leading, encouraging and confirming. These simple yet vitally important avenues of service never need to be retired.
The IBPFM historically has found a tremendous blessing from those who could surely be considered "retired." Two excellent examples were found at our Bible College of East Africa in Nairobi. At sixty-three years old, Rev. William Hawks and his wife arrived in Kenya to become the first principal of BCEA. They served faithfully for twelve years. Similarly, in 1985, Dr. Charles Jackson was a spry seventy-six years of age. Dr. Jackson served as principal of BCEA through 1990, when he and his wife returned to the USA.
Is there a place for you, irrespective of age, on the mission field? Drop me a line at kcoleman@ibpfm.org. Let's explore some ways God might be interested in using white-haired wisdom for His glory. Together, let's finish well.