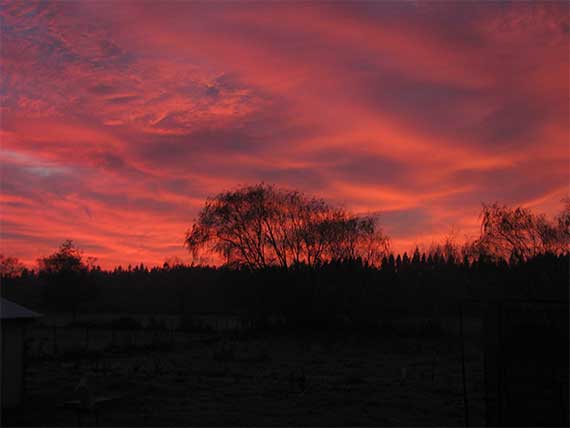 August 2015
Dear Support Team,
Greetings in the Holy Name of our Lord and Saviour! Thank you for your prayers. We praise the Lord for your support of the preaching of the precious Gospel of Christ throughout the world.
"But God commendeth his love toward us, in that, while we were yet sinners, Christ died for us." Romans 5:8
There is only one saving Gospel. We who believe and repent are saved (forgiven) through Christ's death and resurrection, on account of His redemptive work. We are not almost delivered through Christ; His suffering has not paid most of the price for His people; God's love has not sent Christ to die for the righteous; but rather, while we were yet sinners. The Apostle wrote just before this, "for when we were yet without strength, in due time Christ died for the ungodly." (verse 6) God sent His Son to save such sinners as were "yet without strength," that is, such as had and have no ability in themselves to even respond to the Gospel! He died to fully save His people, to be our Surety, to make our salvation by grace certain. Jesus paid it all. Thanks be unto God for His unspeakable gift.
English Classes
Our English students have been memorizing this Scripture (Romans 5:8) in English, which we have explained to them in Spanish. Please pray for the seed of God's Word in the hearts of Gustavo and Daniela, who have been the most regular participants in our Saturday afternoon English classes.
Julio's sister Johanna has come and given violin lessons to Anna and Sarah. During one of the English class activities, Daniela's mother noticed Sarah's violin and asked if Sarah might be willing to teach Daniela how to play the violin. So we asked Johanna if she would be willing to do so and she has been very graciously giving a music lesson to Daniela as well when visiting with us.
Together with Johanna, who has done the majority of the work, we have also been producing a Spanish translation of Frances Havergal's hymn, "Take My Life and Let It Be."
Student Strike Finally Over!
For much of June and July, Julio's College was "taken" by students protesting against new laws proposed for teachers, so he was back in Santiago. During Johanna's winter break from teaching, she and Julio stayed with us from July 18th to the 27th, worshiping with us for two Lord's Days, and allowing us to meet with Julio and Isaiah for Theology 2 classes each day during the week. Praise the Lord, the strike has finally ended, so now we are back to regular weekly classes.
Sermons Online
With Julio's help, Paul has been able to make several of his Spanish sermons available online. We have a page for "Misión de Gracia" at www.sermonaudio.com. Look us up! Sermons can also be downloaded and put on a flash drive to listen to while driving. There are also a couple of Paul's sermons in English available there.
This worldwide outreach is amazing. According to the statistics from sermonaudio.com, in May for example, our Spanish sermons were downloaded 62 times in at least 24 different U.S. States and 26 times in 11 other countries around the globe (6 times in Chile)! Our sermon description pages are seen a good deal more. Please pray for the Lord's use of His Word through this broadcast ministry.
Bible Study
We have been visiting Rosita, one of our neighbors, for a Bible study, after she expressed a desire to understand the Bible better. The two of us have met with her for four studies so far and she has been very interested and happy with the studies in Jeremiah and Romans. Please pray for her, her health, and her family.
Resource Center
Praise the Lord, we have found a location for our future Christian Resource Center (library, Bibles and literature, classes, Bible studies). We have come to an agreement with the owner for renting. But it must be seen by the eye of faith, for the house is yet to be assembled. In fact, there is still an old dilapidated construction on the property which needs to be removed. So please pray, now that the rains are winding down, that the work may be expedited.
Our Shipments Received
We thank the Lord for bringing us our shipments safe and sound. We were finally able to pick up the big one in Talcahuano on July 31st. Thank you very much for praying about this, for all who donated items, and for your support. The Lord graciously answered prayer and enabled us to have no extra hassles with customs in withdrawing the three pallets from the port. A few days earlier we received a box containing the food items which our friend Bert sent, which was considerably delayed in customs requiring paperwork and a couple extra payments. Many thanks to Bert and Mark for their help.
Home and Family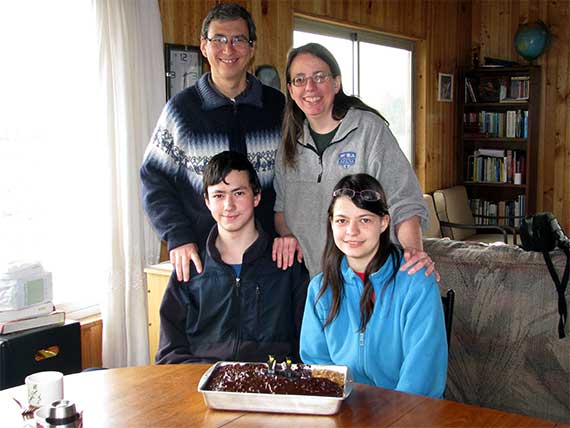 We thank the Lord that John-Baptiste continues to do well, and that our pickup has passed the test of winter. We purchased one tree, and our neighbors and friends gave us several other trees and vines which we have planted.
In June we celebrated Geneva's and Isaiah's High School graduation (with honors), though most of their work had been completed earlier. Now they have enjoyed straight A's in their college courses thus far. Geneva has completed seven courses already in addition to the four for which she and Isaiah received credit by taking CLEP tests. The two (the dynamic duo) have also recently completed basic Greek studies (which they started in High School) and are now reading the New Testament in its original language. Please pray that the Lord will enable them to keep using their Greek. They also continue playing the piano for us during our worship services.
Anna is now donning the lower portion of her new braces, and, along with Sarah Grace, is learning how to use a sewing machine. Adassa, who was bringing her family to our English classes prior to the winter rains, has been teaching them.
Isaiah, Geneva, and Anna recently won essay contests again. Two of these essays were on the Resurrection. Cheryl also saw an essay contest for adults and entered and won too!
We are excited to have the rest of our windows for upstairs finally ordered, and hope to have them installed in late October (early Spring here).
Prayer
Please pray for our health (Paul and Cheryl in particular), for continued advances in organization, for Juan and Adassa and their children (salvation), Rosita and her family, Julio and his family, our young English students, the sermons online, the resource center, and also our own web site, which we hope to be able to develop further soon. Thank you!
In Christ's Service,
The Durands