Presenting Christ to Cambodia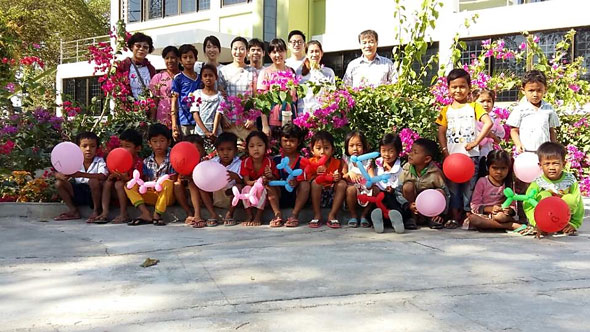 We greet you every one in the Name of Jesus Christ. We always give thanks to the Holy Spirit who leads the church, the body of Christ, because the Holy Spirit leads the church in following the truth and He is the organizer of the whole world mission, and gives us the knowledge of His sending the mission team from the Japan church.
Times are difficult now when we carry the suffering cross. Until now there have not been many families in Glory Church; most of the brethren are single. Last year we had two new families come, so our hope was on these families. We also expected that the Lord would use them to bring revival and union within the church.
But everyone's heart to serve the church has been getting colder and colder, because after getting married, everyone is more in love with their own life than the life of the church. Because of this, they could not be faithful in their mission; for example, teaching children, or translating the sermon to Khmer in the worship service. When these couples gave up their part of the ministry, the other teacher's responsibility grew heavier and heavier.
Yet, at this difficult time, the Lord sent a mission team in order to give us hope and encourage-ment. This mission team, from Fujisawa Christ Church, consisted of young church leaders – three Japanese and two Koreans. These five young leaders had dedicated their lives because they understood this was the Lord's will. They stayed in Cambodia from February 22-26, 2016, at Glory and Gospel Church quarters.
The team grew close to the brethren to hug our broken hearts and get acquainted with the members, children and us. Gospel Church offers kindergarten, English and Chinese classes, computer, and Bible classes. Team members taught and served every student of each class, showing the love of the Lord. Everyone enjoyed the fellowship in the Lord. Our hearts welcomed them, and it was as the joy of fresh flowers in the morning.
It seems more difficult to believe in Jesus Christ in Japan than in Cambodia. In the land of Japan there are innumerable gods and the true God we believe in is just another god among their gods. Church growth in Japan is taken very seriously, therefore their dedication and passion for the Gospel was very faithful and sincere.
As we had an opportunity to hear each team member's testimony, as well as their experiences in suffering in a difficult environment, it inspired us to further our efforts. The Lord used them, and they became the hands and feet, the ears and eyes of the Lord, as well as touching us in Christ.
We heard that the Fujisawa Christ Church was established by a Korean missionary seven years ago. The church congregation numbers about thirty, but even though the church is small, it is very powerful. Only because of one reason, following Jesus, Japanese Christians are rejected by friends and family. But they are strengthened in God's Word, and encouraged by one another and pray for each other.
Three of the five team members had given up the opportunity for success in life, choosing rather to study and graduate from theological seminary and serve that church; one Japanese preacher and two Korean missionaries.
We have rarely seen brethren like these in Cambodia. When the Holy Spirit sends them to us, let us follow their role model through their vivid testimony.
The mission team brought seven second-hand computer notebooks with them. Gospel BPC equipped three sets of desktop computers for fourteen students. The farm village schools in Cambodia have no computer class, so those students were very excited and pleased to participate.
We pray for the land of Cambodia, for these weak Cambodian Christians and our church brethren. We hope that they continue to fight the spiritual war and gain the victory like the Fujisawa Christ Church. We thank God the Father, who has mercy on us and allowed us to receive this mission team and work with them. Even though our hands are short, and our faith is weak, when we work together—the Lord with us—we can accomplish the Great Commission.
We understand that our power, passion, and health are weaker as time goes on, but we come closer to the Lord because the He is all in all for us.
Please pray for the other teachers who serve the church, which is the body of Christ Jesus. Pray for us to be strengthened to carry out our best and pray for the members of our two churches, to grow in faith. We wish our churches to be like Fujisawa Christ Church. "I know thy works; behold, I have set before thee an open door, and no man can shut it; for thou hast a little strength, and hast kept my word, and hast not denied my name." (Revelation 3:8)
May God bless all of you abundantly.
In Christ,
Stephen and Lydia CHOI