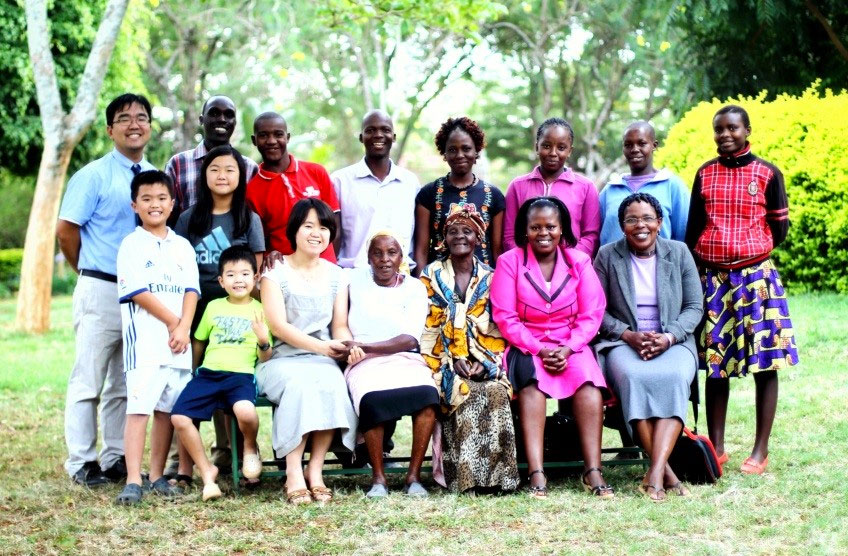 Dear brethren in Christ,
Greetings in the blessed Name of our Lord.
"So likewise ye, when ye shall have done all those things which are commanded you, say, We are unprofitable servants: we have done that which was our duty to do." Luke 17:10
First of all, we'd love to thank our God for our lives in Kenya, and for how He led us and brought us back to the place where He has called us to be. Indeed, taking a furlough for a year was a great blessing for our family. Eben had a productive time with some additional studies. Also, meeting with godly people and having fellowship with them was an encouragement and blessing. Mijung's health has been improved very much. In fact, on her recent medical report, she was asked "not to take" a medicine which she had taken for the last five years since the operation for thyroid cancer. We thank God for the improvement. Haeun, Hajin, and Hahyun learned new culture which helped them to widen their view and understand about different people in different places. Haeun, our first born, wrote about her time in the furlough:
"I thank God for giving us the opportunity to come to America and also for new experiences that I could not and did not get to do and have before I came to America such as a new school, better resources and more that I can get of what I needed. Also, I have gone on a lot of trips with my family, classical concerts I participated in (which was fun), and FOOD I never ate before. I also thank God for friends whom I met in America."
The other children also commented that life on our furlough was more unique and fun than anything they had ever experienced in their lives. We believe that the Lord has given us a most exceptional experience for our family so we are very thankful for His grace.
Because that experience was such a memorable one, it was not easy for us to return. We have to admit that many material things as well as a convenient lifestyle had been attractive to our family. During the furlough, we did not have to struggle with mosquitoes every night. There was that great invention of "air-conditioning" and a heater in the home where we stayed. We hardly ever experienced water and electricity problems. The network with phones and internet service was just marvellous. We didn't have to worry about meeting a policeman in the street. We did not look at and examine every invoice/receipt in the stores. There were too many choices and options in every store and every place. Whatever we were looking for, we could get easily. And as Haeun commented, the food was quite sufficient, diverse and tasty. Indeed, the physical life was very easy and comfortable compared to the mission field where we had been. But then, on the night of our return, we had to fight against mosquitoes, unstable electricity, and water with different tastes and minerals. And as time goes by, we had to face again the dusty roads, many police stops, and various other inconveniences. Mijung really missed the many small souvenirs which we could not carry back with us due to the weight allowances.
Nonetheless, those difficulties and lack did not make us regret our journey back to Kenya. We thank God for where we are. God's calling is precious and it motivates us to live in joy and in spritual riches, during difficult times, in the place with inconveniences. We believe that it is a privilage to serve the Lord in our life time. We thank God how our MKs (missionary children) also understood and trusted the calling from God.
Some people actually asked my kids whether they wanted to stay longer. My kids answered honestly that they would love to stay longer. Yet, they continued by saying that they had to return with their parents because of the ministry God has given to our family.
As we returned, Eben has taken his position as lecturer and pastor. Mijung decided to concentrate on our children; she is putting more effort and time into them since two are entering into puberty. She is not working with the kindergarten anymore since Miss Eun Young Bai did well while we were gone. Yes, our MKs are doing well. It is just amazing how they have adjusted. Although they were sad to say "bye" to their USA friends, they were happy to say "hi" to their friends back in Kenya.
Here are some prayer requests for our family.
Pray for the strength and provision.
Pray for Eben's Teaching: Music, Homiletic Practice, Systematic Theology, Synoptic Analysis, and the book of Joshua.
Pray for Mijung's health and wisdom.
Pray for MKs studies and adjustment and their spiritual growth.
Pray for fellowship and visitation with local churches.
Here are prayer requests for the mission field.
Pray for the BCEA (Bible College of East Africa)
Pray for this new term.
Pray for students; especially for new students.
Pray for enrollment of the college; we have a very low number of new students this term.
Pray for the teachers' wisdom and commitment.
Pray for the BCEA campus church
Pray for the church committee and leadership.
Pray for Eben's involvements: choirs, fellowship and preaching.
Pray for various mission-related works (visiting graduates and building church and kindergarten projects).
Pray for the protection over various journeys of visitation.
Pray for the local pastors.
Pray for rain. The water situation is very severe; it has been a while since we had rain.
Pray for safety and protection; especially during the time of the presidential election in August.
Although we are not involved directly, pray for the Bible College of East Africa Tanzania, Bible College of East Africa Rwanda, and other church ministries in the Masaai area.
As this letter ends, we want to thank God for the provision He has given us. Thank you also for your prayers for our family. Especially, we thank those who showed kindness to us all. We can't name them all one by one, but our Lord remembers you. Please pray for us and labor with us, for as the scripture is telling us, Jesus is coming soon and we have to carry on the task He wants us to do on this earth. May the Lord bless you and your life.
In Christ,
Eben, Mijung, Haeun, Hajin, & Hahyun