May 2019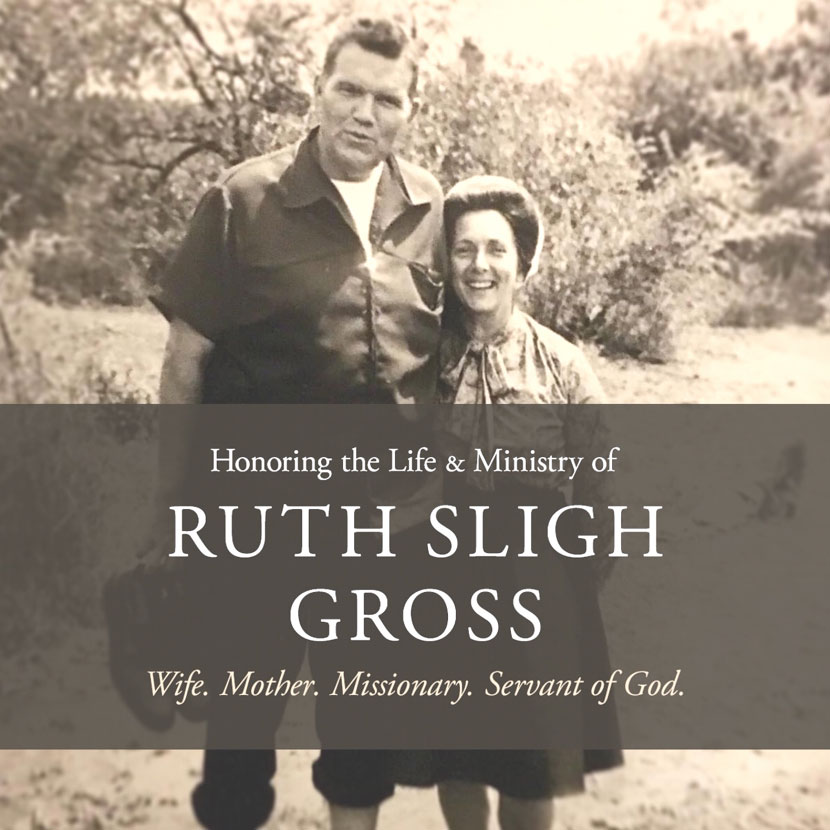 It is not very difficult to write a final prayer letter for my mother Ruth Sligh Gross. You see my mom's missionary outreach will not cease to be just because of her graduation to her heavenly reward. If you were to go to my father's grave stone you would see the words IBPFM Missionary Dentist and the reference of Revelation 14:13, which reads, "And I heard a voice from heaven saying unto me, Write, Blessed are the dead which die in the Lord from henceforth: Yea, saith the Spirit, that they may rest from their labours; and their works do follow them." The wonderful truth is that the many lives that Mom and Dad's ministry touched over the years had an eternal weight to them. Many prayers followed them both, along with wonderful sacrificial giving.
When my parents were appointed to serve under the IBPFM in 1972, they both counted it a privilege to be associated with the historic stand of the Board and its many missionaries over all their years of service. Friendships were forged in the bonds of the Gospel that few have the honor to enjoy. Lasting seeds were sown in many lives not only on the fields of service but in the churches in which they were honored to speak. Who can possibly calculate the effects on young and old alike? I am reminded of many a missionary who stirred my heart toward Christian service in my youthful days!
You may not read another missionary letter from Ruth Gross, but praise the Lord for an enduring work that is promised to be completed by the very last witnesses which will be raised right up to the final trumpet call of Christ!
My mother would want me to thank each and every one of you that have prayed, encouraged and supported her over the years!
Ruth has fought the good fight, she has finished her course, and has kept the faith: henceforth there is laid up for her a crown of righteousness, which the Lord, the righteous judge, shall give at that day: and not to her only, but unto all them also that love his appearing.
Ruth Sligh Gross went to be with the LORD peacefully at Tidewell Hospice on March 31, 2019, in Port Charlotte, Florida, at the age of 90.
By His loving kindness and grace,
Rev. John S. Gross