Dear Ones in the Lord,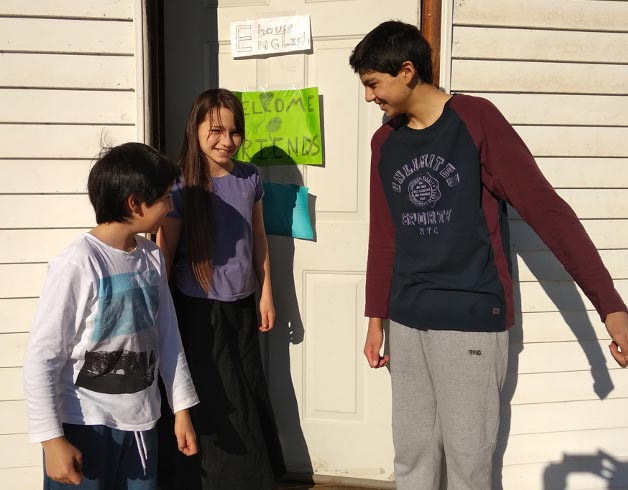 "Trust in the Lord with all thine heart; and lean not unto thine own understanding.
In all thy ways acknowledge Him, and he shall direct thy paths."
Proverbs 3:5-6
This well-known and often sung passage has been Paul's Scripture text for the last two Lord's Days. Since we do not understand much of what is really happening in the world, it is important to be reminded to trust in the Lord. He is Sovereign and cannot lie.
We are thankful for all who stand up and say that worship is essential. We also give thanks that most of us have been able to continue gathering for worship together, in person, without interruption throughout the current crises.
On the home front, our houseguests were able to return to their home at the end of July. Julio's parents and his sister (with Julio) were here two and a half months. It was unplanned by them but blessed of God. We miss them. On July 26th we all observed the Lord's Supper together, just before Julio and his family returned to Santiago. Please pray for them as they have been quite challenged this year. Just recently, one of their dear brothers in Christ, "hermano Segundo," was taken home by the Lord, and two of young Julio's aunts have been severely ill. Now they are in need of grace to quickly make some adjustments to their home and move things from another property, as well as getting some important documents ready, etc. in order to meet a deadline, all in the midst of the current crises. Please pray also for brother Segundo's widow, Cristina, as she adjusts. Paul was able to visit with Segundo by phone several times since visiting their home some time ago, and has been able to visit with Cristina recently.
We are thankful that winter has not brought much actual trouble around here; thus Josiah has been able to return to the area near the Resource Center and interact once more with the children there. We hope to have Abraham, Hans and Chito in Bible classes again soon. Also, Joaquín and Isaac have been able to enjoy learning, recreating and growing here again during the latter part of August when both their parents were working. It has been great to have them back! Paul has also been particularly excited as he has spoken dur-ing morning devotions each day when they have been present.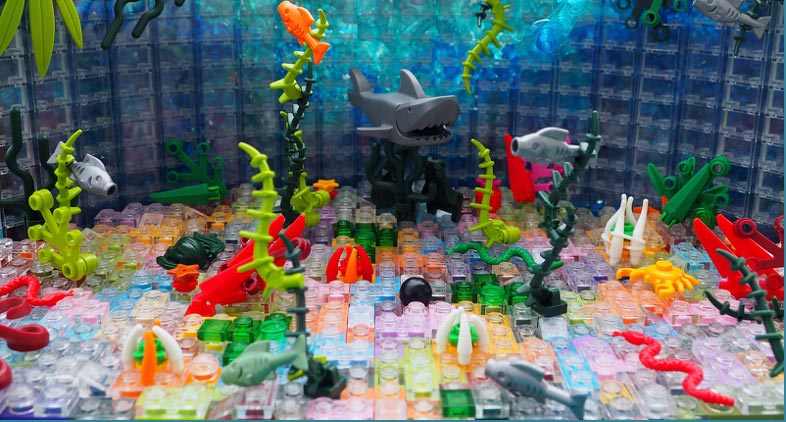 Rocío and José have established a great new business called "Happy House" and are finding success producing and selling educational materials. They have made many great products for parents to use with their children at home, including a set of cards which go through the Ten Commandments (pictured on the back), and they also sell "God's Covenants" in Spanish. Cheryl made some unit studies for them using pic-tures of original Lego creations constructed and photographed by Isaiah and Josiah (an example of one is on the right). The Happy House business is not quite in the black yet but they are making many sales! Please pray for our friends as they are attempting three of the most difficult challenges in life all at the same time: starting a new business, building a house, and raising three little children! We are glad we can be of some help!
More New Neighbors
September will bring a BIG change for us for six months. The Medina family (from WAY up north) has rented a little home in Santa Clara. They want to learn from our example of home discipleship (i.e. Chris-tian home education), Christian home-making and Christian living by being hands-on with us Monday through Friday. They have three children, ages 13, 9, and 3. It will be a challenge to have five more people in our home with us every day, but we trust our Lord will enable through His grace. They want to follow the Lord and they want us to disciple them. We are very excited about this opportunity. After six months they plan to return home to Antofagasta and teach others there. Hopefully in the next letter we will have some pictures of them to share. Please pray for them and for us.
Ministry Online
Now that Julio, Johanna and their parents are back in Santiago, they join us for worship each Lord's Day online. Others join as well and we continue with a Bible class in the afternoon.
A pastor in northern Perú, who was at the ICCC Congress in Puerto Montt earlier this year, invited Paul to minister to his church and youth group, which Paul did on August 21st and 29th, respectively. Both meetings went pretty well. Isaiah, Josiah, Anna and Katie also presented "Rock of Ages" in Spanish to the young people, which they appreciated. Please pray for the Lord's people in Perú. Many are restricted by stay-at-home orders and in the entire country there is a complete curfew on the Lord's Day. We are thankful that brother Alex Woehr, a licentiate of Faith Presbytery has been able to minister to some of our brethren in Perú through the internet regularly since May.
We have also met online with the Medina family (mentioned earlier) every Monday, during July and August, for a Bible study in the Gospel of John, chapter 1, using an English Bible and English class to help them prepare for their time here. We plan to go through the Catechism for Young Children in Spanish and English and the corresponding Scripture references during our morning devotions with them, and help them memorize the answers and many Scripture passages, and also help their older daughter, Juliana, memorize the Shorter Catechism.
Here, near us, Chillán is going to be back under quarantine in September, which will make shopping and some other matters more difficult for us again.
We were also blessed with a recent visit from our friends Rodrigo and Michelle (who also home educate their two sons) from San Pedro de la Paz, though it took them twice as long as normal to get here, under the circumstances (about four hours instead of two).
Prayer Requests
Please pray for Paul's pastoral ministry and preaching, and the N.T. Greek students.
Please pray for Geneva and Sarah – that they will be able to return to Chile safely in early October.
Please pray for the Medina family and Joaquín and Isaac (the homeschool learners).
Please pray also for our son Josiah and his witness to the children and others at El Faro.
Please pray for Julio and Soledad, Julio and Johanna.
Please continue to pray for Rosita and Alonso and her family, and that she will be able to attend worship services again soon.
Please lift up Rocío and José Luis and their new business, Happy House, and for all their preparations to build a new home.
Please pray for Chile and our world, for liberty, the lifting of travel restrictions, and for freedom to gather for worship. It appears as though most churches in Chile have not been meeting in person for over five months. In Chillán, only half of all vehicles have been permitted to circulate on Saturday, the Lord's Day and holidays for the last few weeks.
May our Lord keep you as the apple of His eye as you worship and serve Him. We do thank you for your prayers and support!
In Joyful Service,
Paul and Cheryl Durand and family

Geneva, Isaiah, Josiah, Anna, Sarah, Katie, Faith and John-Baptiste