Dear Friends,
We can see that the world is getting set for the total government power of antichrist with the overarching response of governments to the Coronavirus. It is easy to shut down all the churches with edict when an emergency is declared. Drones can be easily used to enforce compliance. With computers and cellphones, it is an easy matter for the government to keep track of all aspects of our lives. We don't know when Christ will come back but we are told to be ready and watching.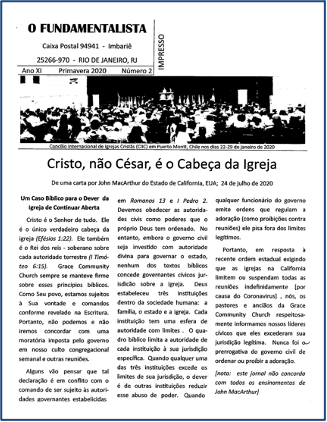 Brazil
We completed the Spring edition of our paper, The Fundamentalist, at the beginning of October. We had the Brazilian printer send it out for the first time. He was very efficient, completing the mailing in only two weeks. We worked hard on redoing our mailing lists for the printer, and were able to give him the lists of over 3,000 names of people and churches. He sent them out one-by-one all over Brazil by the Brazil Post Office. We also always send out a couple of hundred by email.
On the right is a picture of page eight of our newspaper. That is the page people see first on the outside, and it has their address on it. That page has an article entitled, "Christ, not Caesar is the Head of the Church." There are also articles covering the ICCC Congress in Chile in January: Ken's panel on "The Love of God and Social Justice," a resolution of the Congress on marriage and also one on religious liberty, and pictures of the Congress. There is a continuation of Dr. LeRoy's article on our Protestant heritage and also a continuation of an earlier article on Bible texts.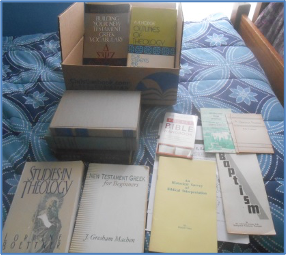 Cameroon
We have kept in touch with the brethren in Cameroon. They started the new session of seminary classes on September 24, as usual. The director of the seminary, who is also a good friend, requested some additional books for the school. We have enclosed a picture of the books we are sending to him this time. They include Berkhof's and A.A. Hodge's Theologies, Blackwood on Expository Preaching, Machen's Greek, and Liddell and Scott's condensed lexicon.
It has been difficult trying to send these books as the US Post Office would not accept a package addressed to a Post Office Box. The problem is that the postal system in Cameroon only operates using PO boxes. There is no house-to-house delivery! However, we are confident we will be able to send them some other way.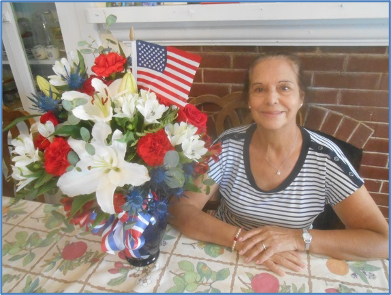 U.S.A.
Ken continues to preach once or twice a month at Kingsville and also at Marcus Hook. We have also kept in touch with Collingswood by visiting services and attending a recent fall missionary luncheon. Ken is scheduled to speak at their Woman's Missionary Meeting this month. He also preached at the Cub Hill Bible Presbyterian Church one Sunday while the pastor was on vacation. We attended a September Faith Presbytery meeting at Collingswood and Ken also spent eight hours on the telephone for a committee examination of two new members of the Presbytery.
Ira has been quite active also. She taught VBS at a local church in August. Also, she finally became a US citizen. We took two trips to Philadelphia for her interview and swearing-in. On the right is a picture of Ira with a citizenship bouquet of flowers sent to her by the brethren of Kingsville. She has registered to vote and will be voting November 3, Lord willing.
Finally, Ken's sister, Corinne, who went to Shelton College, and that many of you know, suffered a heart attack in August but is now doing better. Continue to pray for her.
Thanks again for all of you for your prayers and support that make this ministry possible.
In His Service,

Ken and Ira Olson